Specimen Details
| | |
| --- | --- |
| Name: | Lucki |
| Species: | Louisiana Pine Snake (Pituophis ruthveni) |
| Sex: | F |
| Acquired: | 2009-10-16 |
| Current Status: | gifted |
| Keeper: | monklet |
| Bred by: | Eric Richter |
| Date of Birth: | 2009-07-01 |
| Current Age: | 9y 0m 12d |
| Length: | 36 inches / 91 cm. (2010-02-15) |
| Weight: | 42.88 ounces / 1225 gms. (2011-07-22) |

updated: 2010-04-02
Louisiana Pine Snake (
Pituophis ruthveni
)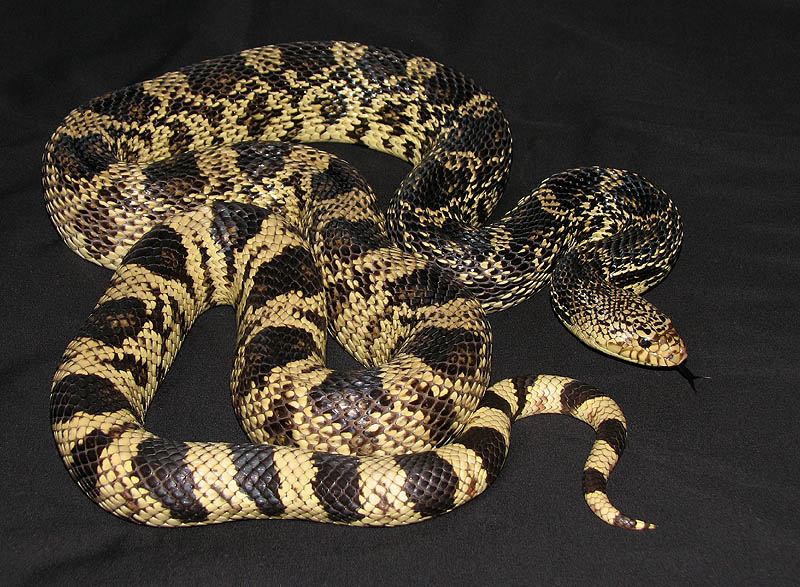 This is a Terry Vandeventer X Audubon Zoo (pre-Steve Jensen stock). Got her from Brian Scott on trade for an adult female ruthveni from Brian Sharp (Eric Richter breeder) along with my Burlington Norther Pine pair, Titan and Sequoia. Very good feeder, robust and growing fast. Also handles well for a youngster.
Oct. 22nd, 2009 - Probably around 12-14 weeks old here.
Dec. 8th, 2009 - Her background color looks really cold here but either this is just funny light or she's warmed up.
Dec. 26th, 2009 - Here she is enjoying a small mouse.
Mar. 31st, 2010 - You can see how stout she is in this pic at 310 grams and a little over 3 feet. She regurged about 4 weeks back but is back on track after some smallish meals.
© 2018 DrakeInteractive LLC. - All Rights Reserved
Hosted By